Since making its all-time high of $0.73 on 8 May 2021, the largest meme coin by market capitalisation, Dogecoin (DOGE), has plunged in value. As of 11 August 2022, DOGE was trading at $0.072, down nearly 91% from the peak, according to CoinMarketCap.
DOGE partially owes its prominence to Elon Musk, the wealthiest man in the world according to Forbes. Whenever Musk tweeted his support for dogecoin, the price of DOGE shot up.
I will keep supporting Dogecoin

— Elon Musk (@elonmusk) June 19, 2022
However, DOGE has been in a bearish trend since the start of the year. Moreover, it declined to a 52-week low of $0.049 on 18 June amid the crypto market meltdown.
Will DOGE surge in 2022 despite the market volatility and escalating inflation concerns? Could Musk's support save the day for dogecoin? Here we take a look at the coin's price analysis and the latest DOGE/USD forecast.
What is Dogecoin (DOGE)?
Dogecoin (DOGE) is an open-source and peer-to-peer cryptocurrency that offers users anonymity, decentralisation, and security while making financial transactions.
One can use dogecoin to make direct money transfers to anybody else, regardless of their location. Dogecoin can also be used to tip users on social networking sites like Reddit and Twitter and buy physical products and services.
Dogecoin was created by Billy Markus and Jackson Palmer in late 2013 as a joke. Since then, with the backing of Musk and the unwavering support of the DOGE holding community, it has grown to become the biggest meme token by market cap.
The Dogecoin network is managed via a distributed system of computers called 'nodes', and anybody can run a node. As part of the process to confirm all Dogecoin transactions up to the next block and the block after that, certain nodes do computational labour by mining dogecoin. 
Dogecoin nodes operate via a decentralised consensus method to prevent bad actors from seizing network control. In simple words, a transaction is processed and added to the Dogecoin blockchain if more than 50% of all nodes agree that it is genuine.
Dogecoin is an inflationary currency due to its unlimited supply, in contrast to other cryptocurrencies that are deflationary and have restricted supply, such as bitcoin (BTC). The 100-billionth dogecoin was mined in the middle of 2015; since then, 5 billion more have been added to circulation annually.
What is your sentiment on DOGE/USD?
Vote to see Traders sentiment!
DOGE/USD price analysis
DOGE became an internet sensation soon after its launch in 2013. Since then, it has returned an ROI of 13,137%, according to CoinMarketCap as of 11 August.
Based on the earliest available price data from 2013, DOGE's price spiked from $0.0002 on 16 December to $0.0018 on 25 January 2014, a massive increase of 800%. However, DOGE eventually lost momentum and declined to $0.0001 on 19 August. It failed to see any significant rally for the rest of the months and closed the year at $0.00018.
Dogecoin struggled its way through 2015 and kept trading lower and reached $0.00008 on 6 May. Then, the market sentiment turned bullish briefly, and DOGE token price reached $0.00021 on 22 June. It closed the year at $0.00015.
January 2016 was quite eventful for dogecoin, as its price soared from $0.00013 on 6 January to $0.00045 on 27 January, an increase of 246% in less than a month. The price action remained sideways for the rest of the days, and DOGE closed the year at $0.00022.
During the first half of 2017, dogecoin to USD price grew exponentially amid the favourable market sentiments and spiked from $0.00019 on 18 February to $0.0038 on 5 June, a massive increase of 1,900%. However, the price declined to $0.00075. It closed the year much higher at $0.0089.
DOGE's value crossed one cent for the first time in 2018, reaching $0.017 on 7 January. The price action remained bearish for the rest of the days, and DOGE closed the year at $0.0023.
Throughout 2019, DOGE failed to see any significant momentum, and the price action was sideways. It closed the year at $0.002. A similar pattern followed in 2020, and DOGE and other major cryptocurrencies failed to see any significant momentum. It closed the year at $0.0046.
Then, 2021 was a watershed year for dogecoin as it gained mainstream popularity amid massive support from Musk. The DOGE/USD price spiked from $0.0056 on 1 January to its all-time high of $0.7376 on 8 May 2021, a tremendous increase of 13,071%. After making the high, the price declined, and DOGE closed the year nearly 77% lower at $0.1705.
As the broader crypto market had been bearish since the start of 2022, dogecoin and most other cryptocurrencies didn't find a favourable start. It had been trading downwards and reached a 52-week low of $0.049 on 18 June.
At the time of writing (11 August), DOGE was trading at $0.072 and had a market capitalisation of $9.55bn.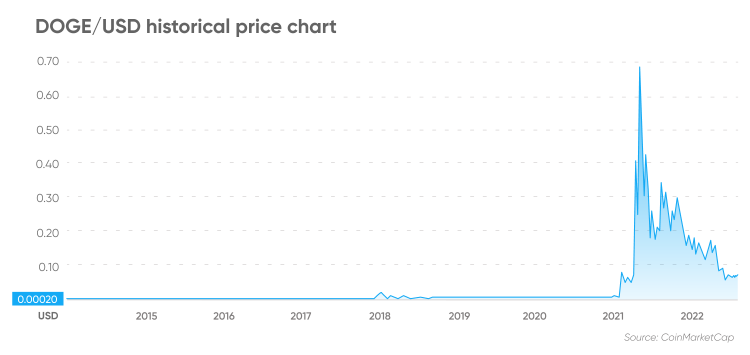 Dogecoin news and price drivers
Dogecoin has undergone several important milestones lately, which may drive the DOGE price in future.
Launch of Libdogecoin
According to a tweet by Dogecoin's key developer Michi Lumin on 5 August, the team released Libdogecoin version 0.1, a dogecoin library.
According to developers: "Libdogecoin is a c library to enable the direct integration of dogecoin into many different platforms in a lightweight manner, without developers having to procure deep blockchain experience."
So after several months, many late/sleepless nights, and one false launch, #libdogecoin v0.1 is now ready play with right here:https://t.co/hcYXnt8UJX

Huge props to the rest of our small lib team, @KBluezr and Jackie (github: jaxlotl) , for the insane effort.

More to come.

— Michi Lumin (@michilumin) August 5, 2022
Release of new core 1.14.6 update
In July 2022, the Dogecoin team released version 1.14.6 with new features and improvements. This update brings severall security fixes and improvements to the network's overall performance.
The Dogecoin team has officially urged all miners, services, relay operators, and wallet users to update to the latest Dogecoin Core version. Musk also paid attention to the latest upgrade, highlighting it on Twitter.
What's especially noteworthy about the recent Dogecoin update is that it reduced the recommended dust limit for every participant from 1 DOGE to 0.01 DOGE. (The dust limit is the lowest amount an address requires to use a crypto network.)
DOGE/USD forecast: Targets for 2022, 2025 and 2030
Due to the current bear market, the value of meme tokens has dropped dramatically. But, Mark Cuban, the billionaire entrepreneur and the owner of the NBA team Dallas Mavericks, is still positive about the future of DOGE. 
In an Altcoin Daily podcast he said that dogecoin would potentially have more applications than cardano (ADA).
According to the DOGE/USD forecast from CoinCodex based on technical analysis, as of 11 August, the coin price could increase by 8.09% to reach $0.0778 by 18 August 2022.
Meanwhile, algorithm-based forecasters gave mixed long-term dogecoin to dollar forecasts.
According to Wallet Investor's DOGE/USD forecast for 2022, the coin could be a bad long-term investment. It expected the average price to hit $0.0426 by the end of 2022, $0.00321 by the end of 2025 and $0.00087 by the end of 2027.
According to DigitalCoinPrice's DOGE/USD prediction, the average price of the coin in 2022 could be $0.0959, rising to $0.10 in 2023 and $0.11 in 2024. Its DOGE/USD forecast for 2025 suggested that the token price could rise to $0.14 in 2025 and $0.29 in 2029 and $0.37 in 2031.
According to Price Prediction, dogecoin could average $0.078 in 2022 and $0.24 in 2025. Price Prediction's DOGE/USD forecast for 2030 indicated that the coin could reach $1.86.
When looking for DOGE predictions, remember that analysts' and algorithm-based expectations can be wrong. They are based on technical analysis and historical price action. Past performance is no guarantee of future results.
It's essential to conduct your own research before trading. Remember that your decision to trade depends on your expertise in the market, the spread of your portfolio and how comfortable you feel about losing money. You should never trade or invest money that you cannot afford to lose.
FAQs
Why has DOGE/USD been dropping?

The broader cryptocurrency market is currently in a bearish phase, with the bulk of cryptocurrencies, including dogecoin (DOGE) seeing price declines over the past couple of months.
Will DOGE/USD go up or down?

According to the DOGE/USD forecast from Price Prediction (as of 11 August 2022), it could hit $2.67 by 2031. However, Wallet Investor suggested the coin is a bad long-term investment option. Remember that analysts' forecasts can go wrong.
When is the best time to trade DOGE/USD?

Trading cryptocurrency is a high-risk endeavour due to the significant price volatility. Trading dogecoin (DOGE) or any other cryptocurrency requires a thorough understanding of its fundamentals and market sentiment.

Whether DOGE is a good fit for your portfolio depends on your circumstances and risk tolerance. Consider making your own research and analysis before making any trading decisions. You should never trade or invest money that you cannot afford to lose.
Is DOGE/USD a buy, sell or hold?

According to CoinCodex's short-term DOGE/USD forecast (as of 11 August), the market sentiment for DOGE was neutral.
Further reading: